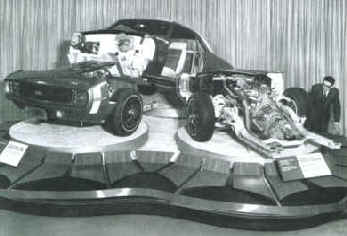 This creation of the Chevrolet Show & Display Department (now known as GM Creative Services), one of hundreds of exhibits produced and seen by tens of millions each year, was produced in mid 1968 primarily in the Detroit Michigan facility (called "440" for short). Eight of the very first 69 Camaro bodies produced by Fisher (ours is within the first 50 VIN's) were identically modified for promotional use, seen at the Detroit Auto Show and countless media, dealership and show events, to promote the then new Camaro body style and innovations. Seven of these "Double Header" Camaro Exhibits toured and remained in the USA....one was sent to tour the Australian continent where Camaro's were then, and remain today....hot! Each car and its massive display assembly (the electric motor powering the display assembly weighed nearly 2,000 pounds alone) was transported in its own specially marked GM 18 wheeler. In the late sixties, Show & Display used a fleet of 33 tractor-trailer rigs and an additional 200 van loads by commercial carrier to support Chevrolet road tours.
The 69 Camaro "Double Header" exhibit originally rotated in sections on three turntable displays. The rear turntable mounted the body which could raise and lower, pivoting on the rear axle, and also swivel to the left or right. The two front turntables, one with an RS/SS-350 front nose section, disc brake subframe, 350 cut-away engine and TH-350 trans, and the second with a Standard nose section, drum brake subframe, 6 cyl cut-away engine and powerglide trans, would make 360 degree rotations. Both cut-away engine's internals were turning, showing a fully functioning engine, spun slowly by electric motors neatly disguised as the alternator. When activated by a spectator pushing a button, the uplifted body would rotate, index with a now stopped and correctly positioned turntable, then lowered down onto either the RS/SS-350 front end or the Standard 6 cylinder front end to form a complete 69 Camaro! Headlamps and parking lights would flash, the horn would sound, and on the RS, the hideaway headlamp doors opened and closed. Upon command, the whole process would repeat itself.
The Double Header's resting place in Australia. Photo's from the CarsinBarns website.
New photo set of the Double-Header display car taken sometime in 1978 in Australia. The owner had hoped to build a drag car. We're glad he didn't get much further. Even then you can note the extensively dented body shell.