Older restorations." Why you gotta love these Camaros..... Back...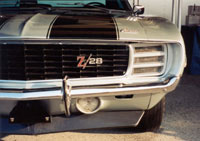 First off, we're talking here mainly to those shopping for a first generation Camaro, or one already a long time owner, and we're talking for the most part about some very under appreciated Camaros: those show cars and trailer queens, or little driven cars with around 15 year old (and the older-the- better) "professionally" accomplished restorations (doesn't matter if it was done mainly in the previous owners carport - it's the results that earn the label) and of course the more technically correct with original components and replacement parts the better. Most were accomplished by individual Camaro enthusiasts in our home garages/shops simply for the love of the car and the hobby, (cause you sure couldn't make any money sinking 20K+, AND your time, into a car worth no more than 15) rather than by the same caliber of individual restorers in more recent years or in the hot "restoration shops" justifiably popular now. Absolutely nothing wrong with the competent shops either...they, as you, can turn out just as pretty-well flawless looking Camaros too.

So why pay a (presumed) serious premium for these mostly aging beauties?

Prompted by our search for a suitable Camaro body in which to place an exceptional piece of Chevrolet engine history. We had a ("Plan A"), but then we found our dream body and collectively choked at the cost to acquire the former museum car....and without any engine either.
It was the perfect Camaro!....but we had difficulty justifying the cost...after all, other than the hemi headers (we were working on obtaining a set of original GM drawings) we just knew we could find another suitable Z (freshly finished even, with a good matching# running engine for Pete's sake) with a "show quality" appearance (or at a price we could do whatever was needed in the time allotted to get it that way), and even include the purchase and install of one of our own original restored JL-8 set-ups at full retail and probably still be ahead. And we, as you the reader, probably could have. And we could have had a perfectly fresh restoration too boot with everything all shiny and new.

But the properly done older restoration IS different from the same properly done more recent restoration....all other things being equal, side by side, you can see the difference; and the visual impact can be stunning...and there is another plus.

It's the PARTS that make the difference. You, us, the finest shops today, simply can not get the brand new original GM factory replacement parts that can be found on these older restoration Camaros. A well maintained older restoration, (our 67 Butternut Yellow Z-28 had an early drag strip history, and when fully restored fully two decades ago had over 1,100 parts replaced with ALL original GM pieces). More than 90% of them are now disco from your friendly local Chevy parts counter or any restoration parts company. To be honest, a good 20% of that 90% had already been discontinued even back then, but were at least a heck of a lot easier to find and relative to today only, incredibly cheaper to pay for.

And it's more than just the hugely important cosmetic differences, that when combined in total, causes you to drool over these cars when fresh.... things like original weight moldings, steel stampings, cast pieces, interior plastics and trim finishes, all original factory sheet metal major panels, the exterior trim. The weather strip, window fuzzies and original rubber are huge items, and on and on. Most importantly, everything was manufactured with the exact original materials from original toolings and most often with correct, high factory quality finishes and platings.
It's also all the mechanicals - internal engine and drivetrain, suspension, brake, engine accessories, tranny & rear end gears, axle bearings, switches and even critical hardware.... all manufactured with typical OE factory quality, (today a few of the remaining shrinking number of new GM replacement Camaro parts....like door sill plates, Ugh!...has slipped, a number of reproductions really are of genuinely equal quality with better appearances (like our 67-68 front grill moldings).

Here's what we consider the other big deal though....all this original GM stuff not only gives the look you can almost feel, everything will last an easy 20 years, with minimal reasonable care, even as a valued daily driver. You simply can not say that about a regretable chunk of even the finest available restoration parts, licensed or not, at any price. ("Click as we digress into a needlessly lengthy but related topic") Or read on:
Suffice to say most all reproduction First Generation Camaro parts manufactured and available today from product aware Camaro retailers ARE best quality products, with many technically and cosmetically correct.
However, nothing beats the appearance, or the ride, or the quality and life expectancy of a Camaro correctly restored back when most of what our hobby had for the restoration are pretty much now ALL GM NOS parts.
Today...even if you or we could locate the 1100 long gone GM parts used on the "older restorations" like our (fortunately still immaculate) 67 Z or the 69 JL-8 Hemi Z (think e-bay & internet or it's hopeless), those part's costs would certainly reach and we know of recently completed restorations on high caliber collector Camaros that have reached into the stratosphere.

Shouldn't all that be worth a premium?

Just something to consider as faded beauty sometimes masks the true gem. And it's just our opinion off course, and we do have a fair amount of them, and we're not exactly noted for being shy to express them...and ya'll know what an opinion can be worth.....so anyway, thanks for reading this far and please continue to enjoy our site!