350/300 HP
M-21 4 speed trans
Posi-traction
Endura front bumper
Manual conv top
AM/FM Radio
Deluxe seat belts with shoulder belt
Floor console
Tachometer and gauges
Folding rear seat
Tilt steering
Rosewood steering wheel

Photo taken while grabbing a morning coffee at Jittery Joe's Coffee Shop, located in the Five Points section of Athens GA, the home of the University of Georgia Bull Dogs. June 2006.
This photo/image is copyright protected, and made available for personal use only. Otherwise, not legal for reproduction or alteration in any media format for any other use without written permission. (Read the whole, huge, Copyright blurb here)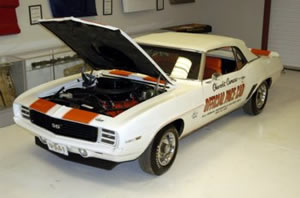 Our 69 Pace Car has spent the last decade both showing & going! The authentic Z11 car's original restoration was completed by Rick's Camaro and Greg's Body Works in '91 for its then new owners, a local Athens couple. Originally a North Carolina Camaro, the Pacer must have spent considerable time in the northest, possibly Ohio, before residing in Athens a few years prior to its restoration. With Camaro body panel rot most typical of a salt environment (we're not all originally from the South!), we also found a '78 Pittsburgh Press newspaper wadded into body rust holes as filler under pounds of old bondo from a previous repair. (Rick has related how his father in Pittsburgh, PA used to fill rust holes in the family Olds with Sakrete, then paint with a spray bomb of red rustoleum) Finished with show quality body, paint, interior and cosmetic drive train (no undercarriage or mechanical) restoration, the Pace Car was shown & competed extensively in the southeast each year until retired in '02, and our purchase the following year. We had remained familiar with this small block original 4 speed car, as the previous owners had enjoyed driving the Pacesetter Camaro as much as the showing and the competition. Cruising as much as 2200 miles each season, our restoration services were engaged each winter freshening or upgrading the car for the next year.

We've since lost the block to a wrist pin knock. At least it was not the original. (It's not healthy for this era's Chevy's to sit idle for lengthy periods. Seals stiffen, lubricating films drain; don't even go there with the carb. A new high quality battery will be toast inside a year without a battery maintainer.) We also managed to literally buckle the driver's door (with decal) inward about three inches with the rear bumper of the 69 Crossram Z (it's a little tight on the main showroom floor). The junk block was replaced with the 2nd next best thing to the original (the next best being a CE code block, indicating (all other things considered) a GM dealership had replaced the original block with a new one while still under the factory 12 month/12,000 mile new car warranty.
We located a correct casting number, casting date, assembly date and model code 350 engine block to match the car's build and equipment. Of course, the stamped VIN does not match. Nor should it. This is where the biggest crooks step in. (Re-stamping is dishonest, fraudulent, and illegal when in commerce. The kind of thing that people who must look over their shoulder all their lives do.) Camaro buyer's please be careful; do your homework. Rick's staff intensely dislikes bursting someone's bubble after a deal is done.

Between engine assembly and re-install by staff, we fixed the door as new and updated the engine compartment finish and engine accessories. We hope to enjoy cruising or showing the Pace Car also, so other than a planned new exhaust system, suspension overhaul and upgrading of a few technical items like a correct # distributor and correct reproduction rear leaf springs as the car could use a better rear ride height, nothing more will be done. Maybe see ya'll at the Varsity (Athens or Atlanta) some warm, summer Saturday night!