1969 Baldwin Motion Tribute Camaro Makeover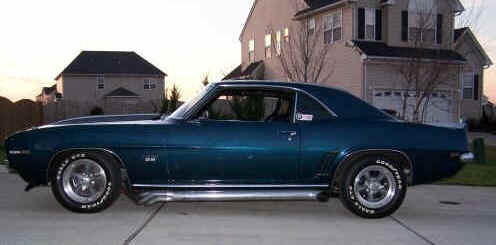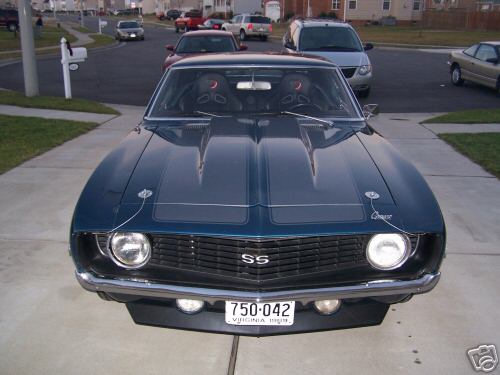 Our very straight, reasonably solid and mechanically all new 69 Camaro we acquired in Chesapeake, VA started life as a six, being re-born only a few times over the next decades with hotter drivetrains and different looks, but remaining basically stock and unmolested in most other respects.  We may rob the pipes & rims for our stock restoration 69 Cortez Silver Z-28; and the body may assume yet another new identity once more.....as the bearer of the ultimate 302 - the factory 1969 Hemi-crossram ALL aluminum GM proto-type 302 engine we recently acquired (the word "acquired" does not do justice to convey the excitement over this unbelievable find!)  Lot's more info coming on this incredible historical Chevy engine and perhaps another cool project to fit into the schedule!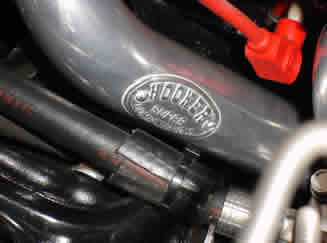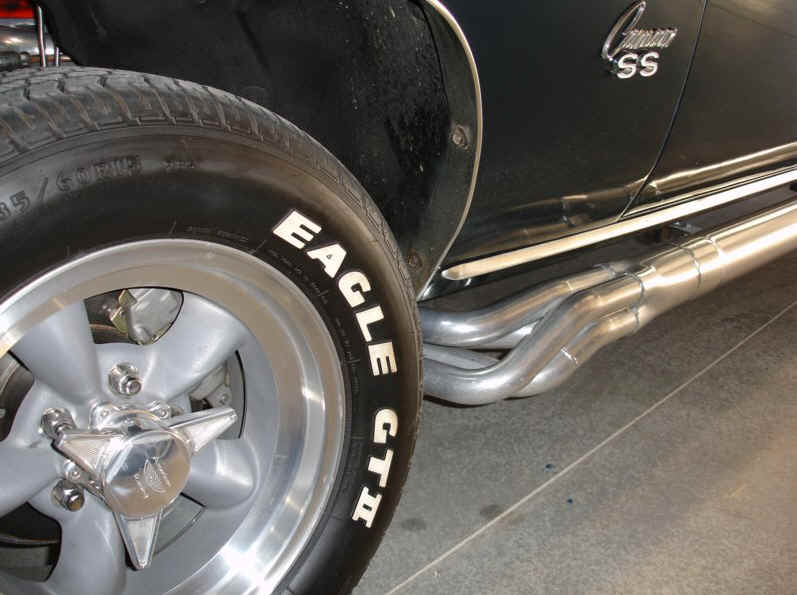 Check out the new set of rare Camaro Hooker Super Competition Side Pipe Headers, on the money for the period and expensive-as-all-get-out back then. These beauty's have been long gonefrom the market, nearly 20 years! The equally new and rare Doug Thorley Camaro Side Pipes (kindly provided to our BM Tribute Camaro's previous owner/builder by Doug Thorley himself), have been unavailable for at least ten. Quite popular in the era, especially on the Corvette, this in your face display of raw power had the voice to match, and was used on some Baldwin Motion Performance Camaro's, by SCCA Trans-Am racers and the "well-heeled" hot Camaro owner making a bold statement. If you ever had these on your ride, you'll appreciate the modern Jet-Hot coating applied to the entire system, greatly reducing crispy crittering your lower leg's calf, especially on exit, while also extending the life and appearance of these cool Camaro original aftermarket performance pieces.
We're thinking of mounting the American Racing Torque Thrust D's (should we keep the sweet AR two piece spinner caps?), and the side pipe header system to our otherwise bone stock 69 Cortez Silver Z restoration. The staff is VERY strongly divided over using the headers and pipes. What do you think?
But first for a few basic needed repairs.....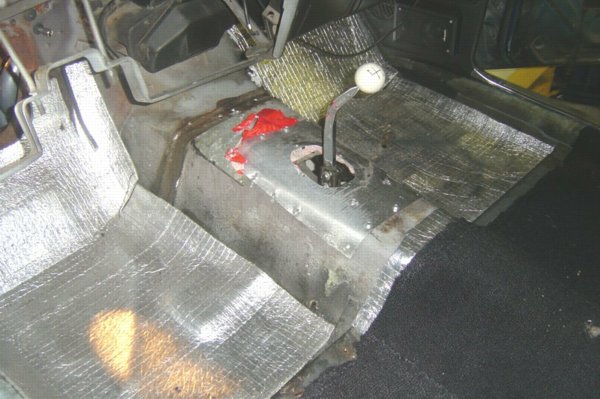 Well, more than one new Camaro owner has found this lurking under that new carpet. Not a bad functional patch job though....wonder what the red duct tape is for......?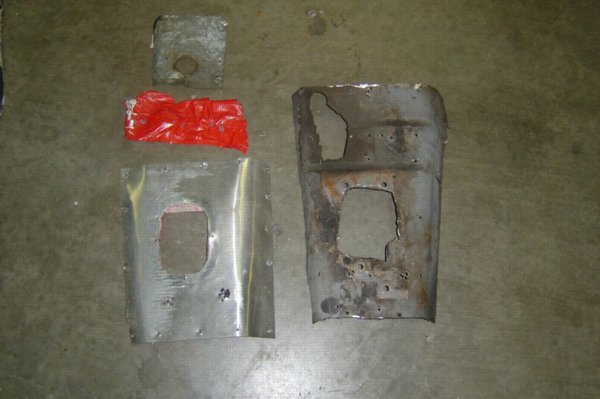 Here's mute evidence of numerous tranny and shifter swaps throughout the past 3 decades.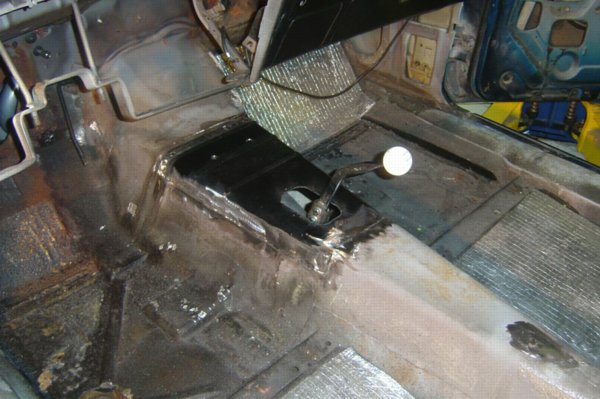 Perfect for this repair is the Transmission Hump repair panel we manufacture
(W-832)
, using only what we need. Though a solid repair, we're not butt seaming this panel. However, since the Camaro's fresh 400+ HP crate motor is going into a 19'70 Camaro, and the Pontiac Muncie 4 speed trans are coming out, we will finish off both interior and under floor welds, plus do some work on prior front floor pan repairs.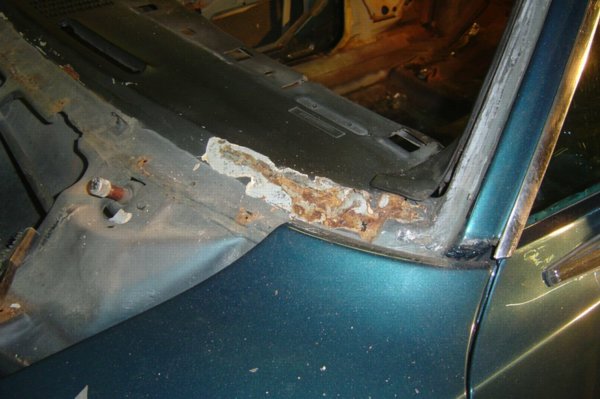 Along with the lower fender, doors, rear quarters, rear window to trunk panel & the rear quarter door jamb areas (like there was something that didn't rust) a most common body shell rust damage is along the upper dash panel to cowl panel attachment. Although the bondo job on this Camaro was relatively easy to spot from the sanding scratches and a half inch, slim separation crack on one end; a fresh cosmetic patch job like this might not be so easy to spot....for the first few months anyway.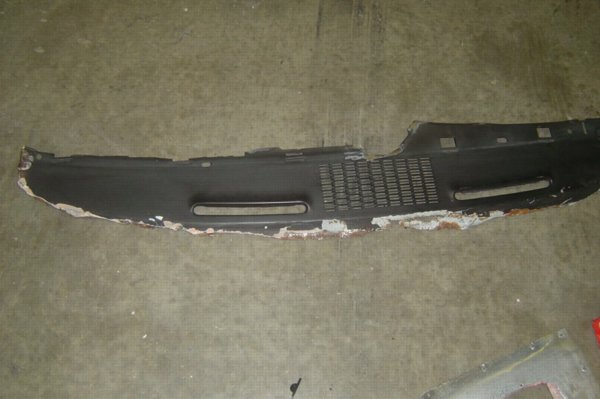 "It didn't look that bad!" A layer of bondo thinly spread can nicely cover (for awhile anyway) a tremendous amount of carnage.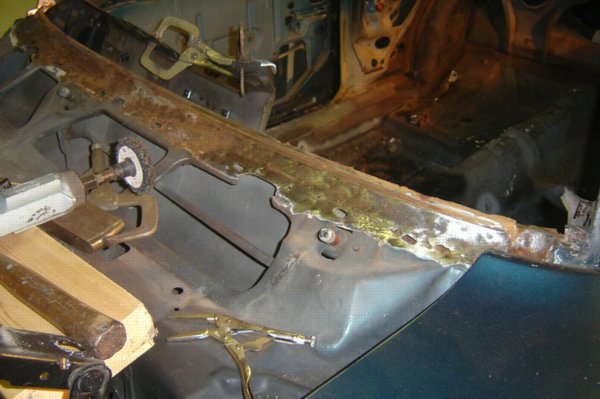 Other than the queasy stomach endured and caution required when removing and installing Camaro front windshields, upper dash panels are relatively easy to install. The underlying cowl section, stamped from much heavier steel, is usually quite solid and a replacement upper cowl panel stamping is available if needed.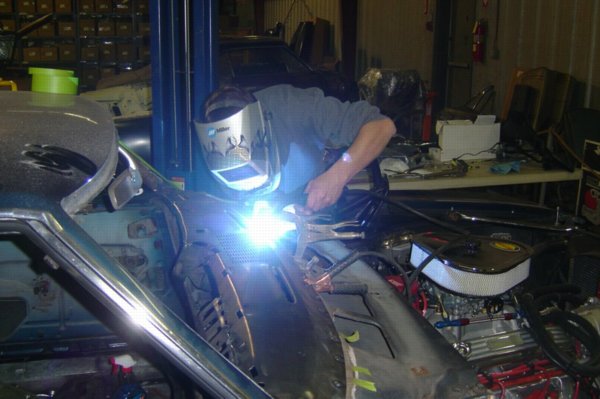 After proper prep and metal treatment, the existing cowl is quite suitable for spot welding the repair dash panel back in place just as the original.
Greg Postnieks, head of our R & D efforts and the company's CFO, enjoys this part of our operations the most.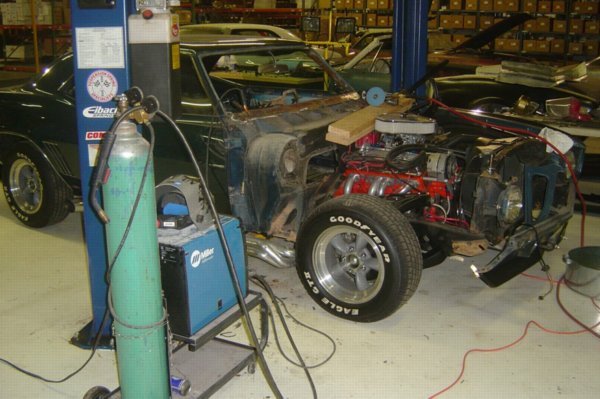 You may not want to see it, but this (except for the removed windshield and the interior heater box and core) is really the best way to replace a bad blower motor or fan. (Short of torching/mangling a rather large hole thru the inner fender well....). Yes, you can remove a lot of bolts (it will be many, many more than you think), then simultaeously pull the lower fender outward and up and the inner fenderwell down and forward, but it's not as easy as it sounds; and assuming you get that far, you'll have no skin on the knuckles of both your hands hours later. The risk of sheet metal, paint damage and flying epitaphs is real. While at the end, you will have pulled almost every bolt and panel you would have anyway.
Change II to Plan B.... Updated 8/30/2006 The all aluminum 302 Hemi Crossram engine is now installed in a most worthy Camaro; a real JL-8/Z28; we still may use the sidepipes and rims on the Cortez Silver Z, which has morphed from a Driver to a technically correct 'trailer queen', the 400+ HP fresh crate motor is destined for (Gasp!) a 1970 Camaro, and now we need to start a new page for our tribute Camaro's next incarnation (until then it's an excellent test bed for testing and fitting CHQ newest restoration products).