1969 Chevelle Mailbu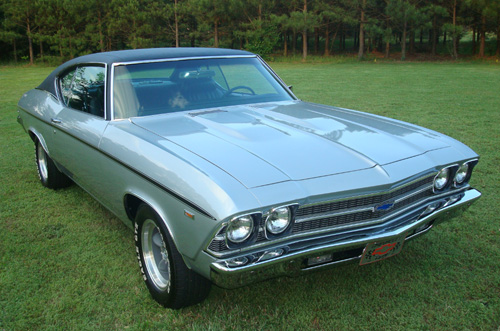 After working on first generation Camaros for many years, an opportunity presented itself for us to try something different in the form of a 1969 Malibu. This was a deal we just couldn't let pass us by. We saw the potential for one cool classic. Our Chevelle was a very, very solid Georgia car with only a few small rust problems and a very tired, very faded black paint job. We painted the car in Cortez Silver for simple tradition and it is a really cool color. No body modifications were made to keep with our simple muscle car theme other than the SS hood with chrome ornaments and the black SS side stripe. The car still had its original engine, transmission and rear with a few really nice modifications.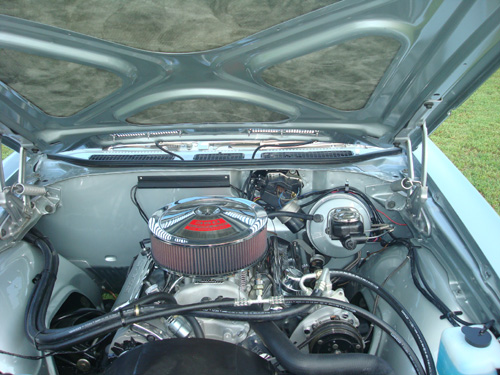 The original 350 engine had been rebuilt and updated with a Holley Systemax II kit (Port-matched aluminum heads, intake and cam) which dynos out at 425hp and the original automatic transmission had been rebuilt with a nice shift kit. Well...we could not stop there! The original rear had to be shelved for a bullet-proof 12-bolt and all of the suspension was replaced with new parts such as Edelbrock shocks, lowering springs, heavy-duty front and rear swaybars, and new steering components. Wanting a good weekend "show and go" car, we decided to upgrade further with modern conveniences to make the Chevelle more fun to drive. The factory A/C was pulled to make way for the Vintage Air R134 A/C kit which gave us a good reason to smooth out the firewall. Mallory HEI ignition went in along with headers and a Flowmaster 2 1/2" exhaust system.
Fast muscle cars have to stop so we installed a 4-wheel disc setup from The Right Stuff with powder coated calipers and their ultra-trick cross-drilled and slotted rotors. The original white interior was in surprisingly good shape for its age. But, we had to have bucket seats, a floor-shift console and an all black interior. While we were at it, we decided to put in tilt steering with a factory-optional comfort grip steering wheel in front of an original SS dash cluster.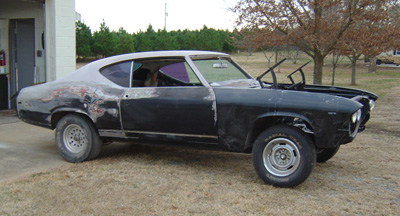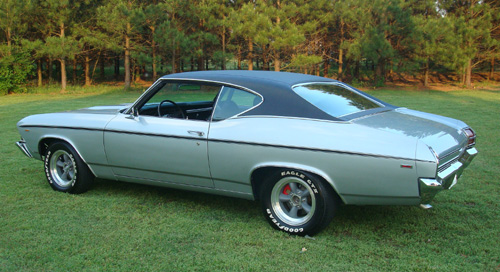 We had to have tunes in our Chevelle so we installed a Ken Harrison 200 watt stereo pushing through four speakers and a hidden windshield antenna to keep the body looking clean. For safety sake we installed Halogen headlights, LED tail lights and Morris Concepts 3-point, retractable seat belts. All of our hard work made for a mild-mannered boulevard cruiser which can turn into a heckuva beast when provoked and turn a few heads in the process!